Official airport
Pristina International Airport (PIA)  Adem Jashari (IATA: PRN, ICAO: BKPR) is an international airportlocated 15 km southwest of Prishtina.
Since 2010, PIA is being managed by Limak and Aeroports de Lyon through Public Private Partnership Agreement.  It has a 42,000 meterssquare modern terminal, handling over a million passengers per year.
In June 2006, Pristina International Airport was awarded the Best Airport 2006 Award in the category of 1.7 million passengers per year. Winning airports were selected for excellence and achievement across a range of disciplines including airport development, operations, facilities, security and safety, and customer service.
 PIA serves different international airway lines and offers flights to the most important European destinations. There are almost daily flights to Zurich-Switzerland, Frankfurt-Germany; Vienna-Austria Ljubljana-Slovenia, Istanbul-Turkey; and much more.
http://www.airportpristina.com/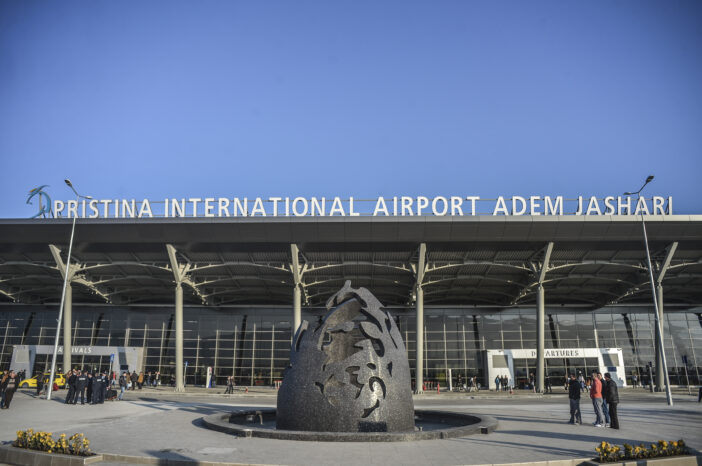 --------------
Official bus station
Bus Station in Prishtina City, offers a daily 24/7 services.
Socially Owned Enterprise (SOE) The Bus Station in Prishtina was established in 1977, while in the existing premises it was established in 1983.
After the end of the war, in 1999, the company was administered by the Kosovo Trust Agency (KTA), while in 2015 it was transformed into a municipal public enterprise, organized as a joint stock company, with the Municipal Assembly (MA) of Prishtina as owner only lawful of all shares of the enterprise. In this context, the MA of Prishtina exercises the competencies and responsibilities provided by the laws in force, but also by the Statute and other bylaws of the enterprise.
The enterprise generates its own revenues and does not depend on the municipal budget. The main sources of income are peronization service (receiving and escorting buses), ticket sales service for transport operators, passenger luggage storage service, parking service, service area for driving schools, rental of business premises in owned by the Station.
According to the Statute, the company has its governing bodies: Board of Directors, Chief Executive Officer, Corporate Secretary, Chief Treasury and Finance Officer, Internal Auditor, and other support staff, engaged according to the organizational chart of the company.
The company currently has 96 employees.